What is the correct sitting posture when working at a computer or laptop?
Many of us that spend at least three hours per week in front of a screen. We would expect to experience discomfort as a result of doing three hours of exercise. Sitting still for this period also puts a strain on our musculoskeletal system and often results in lower back or neck pain.
The human body is designed to move regularly, we evolved to hunt and forage, not to build a trap then sit and wait. In the modern world although our lifestyles have changed significantly from our hunter gatherer days, our muscles and joints still need movement to stay healthy and pain free.
Ergonomics
As occupational health Physiotherapists, we strive to achieve the optimum balance between the use of modern technology to maximise work efficiency and the toll it can take on the user, this is known as ergonomics. We assess individual's working conditions and the tasks they need to perform and put in place solutions to maximise efficiency and minimise injury.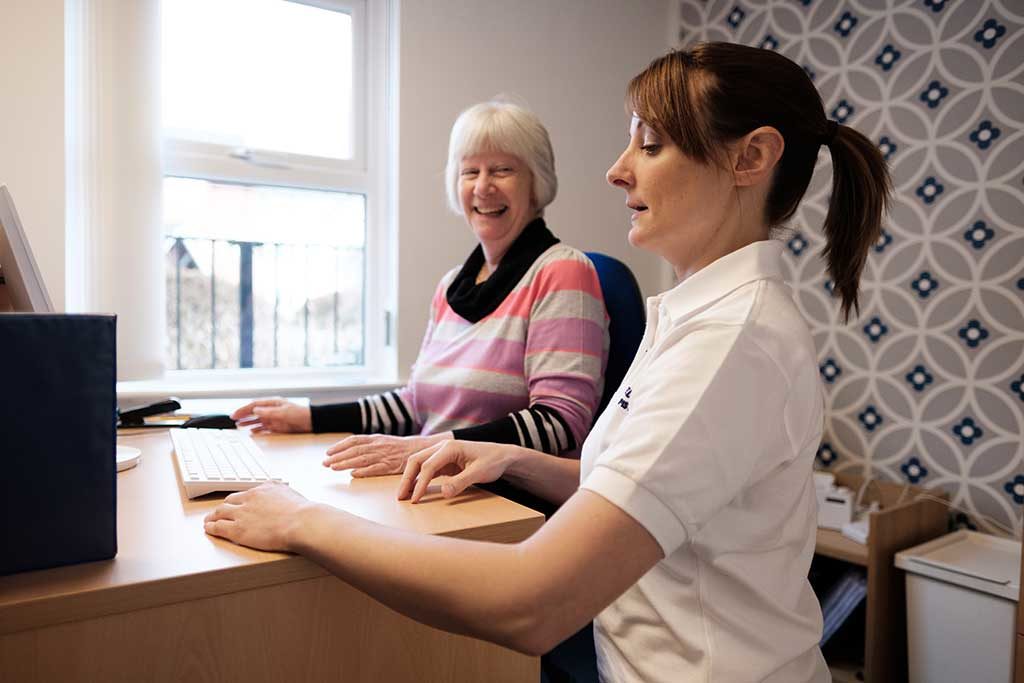 Here are some general guidelines to help you at work if your jobs requires long periods sat in front of a computer.
Move regularly:
Take regular breaks to move as often as you can, setting a reminder on your computer to get up and walk around or stretch every hour.
Sit on a suitable chair:
Your computer user chair should have a stable base (such as a five-star castor base) and a minimum of three adjustment features to comply with Health and Safety display screen equipment (DSE) regulations (1992).
Height adjustable seat
Height adjustable backrest
Tilt adjustable backrest
If you regularly work at a computer for more than one hour and your chair has not got these features, then we advise that you invest in one. These can be purchased from around £50 mark and it's a good investment.
How to set up your computer workstation correctly.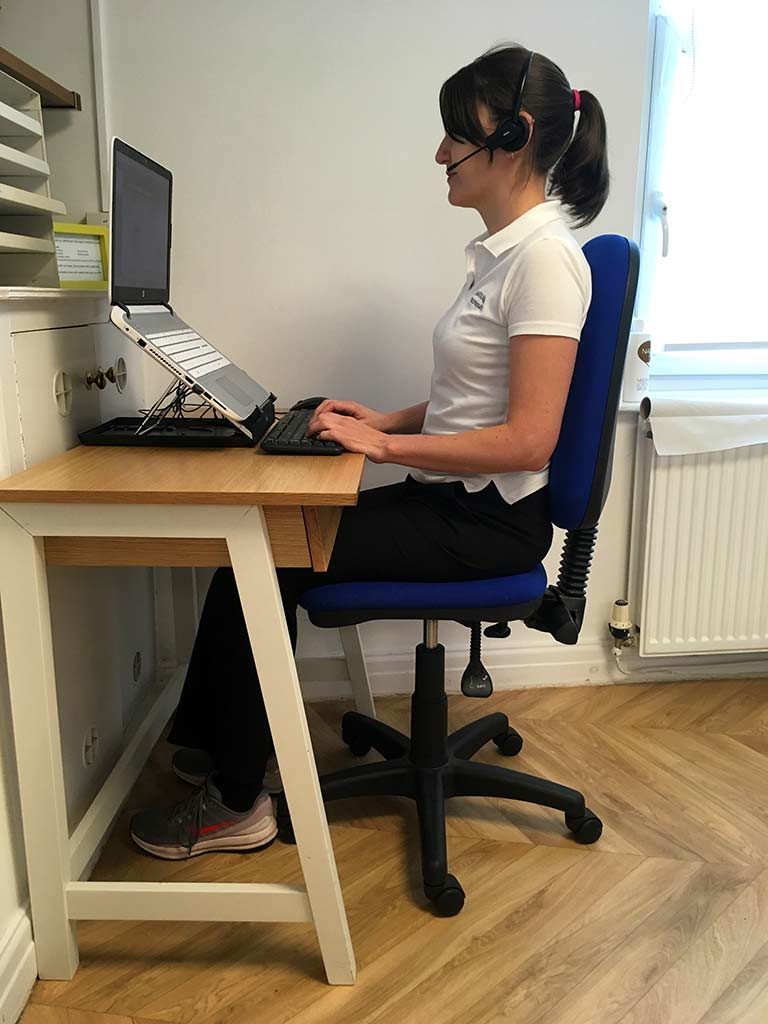 The first feature to set is the seat height. Sit up tall on your seat, allow your shoulders to relax and let your elbows fall to your sides (not onto armrests). Adjust your seat height so your elbows are level with the desk surface. This is so you can keep your shoulders and arms relaxed when typing to help prevent neck pain and upper limb pain.
If your feet cannot be placed flat on the floor you need a footrest. Unsupported feet is likely to result in strain in the lower back.
If your feet can be placed flat on the floor, you do NOT need a foot rest. If you use a footrest when it's not needed, you'll probably be making your knees higher than your hips and this can flatten your natural lower back curve, which over time might cause lower back pain.
If you cannot fit your knees under your desk with your elbows level with the desk surface then you need a higher desk or you will probably be slumping forward when working at your computer. Usually this can be achieved with putting desk risers (purpose-made small plastic or wooden blocks) under the desk feet.
If you cannot raise the chair high enough to get your elbows level with the desk surface, you need a chair with a taller gas stem. Otherwise you will may shrug your shoulders or hold your elbows out to the side when typing: this can contribute to neck pain and other common upper limb disorders such repetitive strain injuries (RSI), carpal tunnel syndrome or tennis elbow (lateral epicondylitis)
Next, raise the backrest so the curve of the seat fits in with the natural curve (lordosis) of your lumbar spine. If you are not sure where this is, stand up and run the back of your hand up and down your lower back. The apex of your 'lordosis' is the deepest part of the curve above your buttocks, this is more pronounced on some than others. Keep your hand on that point on your back and sit back down on your chair – this is the point to where you need to raise the curve of the backrest.
You can also adjust the backrest tilt setting. There is no perfect position for this and this can be re-adjusted intermittently throughout a working day. You can choose to be supported in an upright position whilst typing and you can recline the back for reading a document or from tablet or talking to someone on the phone.
If you have armrests adjust these so you can position your chair close enough to your desk without overreaching. If you can't do this, consider taking the armrests off your chair.
After you have adjusted your chair make sure you are sitting square on to your computer, your mouse and keyboard are within easy reach if your elbows are relaxed at your sides and there is an equal balance of regularly used equipment and documents to both sides.
KEY POINTS
There is no single perfect posture for someone to maintain all day
There is no perfect setting for your DSE user chair to be kept in all day
MOVEMENT IS KEY – Make sure you stand up for 5 minutes in every hour and go for a short walk in your lunch break.
To book your consultation please complete our online booking form*.
If you would like to know more about how we can help you, please contact us and one of our friendly team will be happy to discuss your needs, without obligation.
* Please note: If your treatment costs are to be paid directly by your health insurance company, we kindly ask that you contact us by phone or email to arrange your appointment.
Please read our cancellation policy.
Here's what our clients say.
Helen Q.
★★★★★
Liz and colleagues have been treating my son for many years and are fantastic with him. Although his condition will never change keeping him free from discomfort and moving the muscles he can't use are invaluable to his quality of life. We can't thank and praise them enough not only for their knowledge but for their care, commitment and respect shown to us all
Ste W.
★★★★★
I went to Marple Physiotherapy with what I assumed was a sore neck, but it turned out to be my shoulder. After many sleepless nights in agony I went to see Liz, who after two visits got me back to normal. Everything from what she did in the practice to the exercises see gave me to do at home is geared up to promote a speedy recovery and her knowledge is incredible.Can't recommend them enough.
Andreea D.
★★★★★
Excellent input from Liz during my recovery after rather complex knee ligament injury. She provided step-by-step guidance with regards to specific exercises for every stage of the recovery alongside therapeutical ultrasound and massage. Highly recommended
Emily R.
★★★★★
From the get go, I have been really impressed with my treatment at Marple Physio and would recommend it to anyone with back troubles. The initial consultation was so thorough, I left feeling positive that I could improve my chronic pain. I really appreciated that Liz was able to explain the reasoning behind my long term back troubles (over compensation and shortened muscles etc.) She has given me a proactive treatment plan that I never got previously from other establishments and I have seen an improvement in my condition after only a few sessions.
Simon T.
★★★★★
A massive thank you to Liz for getting me to the start line of the Manchester Marathon! Picking up an injury half way through training I feared the worst for the big day, but a swift treatment cycle had me back up and running in a couple of weeks. I had plantar fasciitis which I have heard keep people out for months on end so such a huge thank you for the wonderful care provided to help me back to my feet.
Adam F.
★★★★★
I self-referred to Liz after an episode of chopping firewood resulted in a bad case of tennis elbow with constant pain and a complete absence of strength in my right arm. The combination of physical therapy over a course of weeks, combined with effective exercises for home, has all but cured it, in a surprisingly short time. In the process of treating my arm, Liz also diagnosed some of my long term back problems and set me on a course to strengthen the right muscles to counter those issues. Great experience and would wholly recommend.
Christopher L.
★★★★★
Brilliant, extremely knowledgeable and caring. They put me at ease which is very difficult when you have a very painful back. Everything from the therapy provided to the online programme they use to send you exercises is first class.
Kieran B.
★★★★★
I had physio on my shoulder with Liz and she is very friendly and an expert at what she does. She was quick to diagnose the issue and give me the appropriate exercises that helped fix the problem. Would definitely recommend.
James B.
★★★★★
I had a sports massage with Nicky. Overall, a brilliant service which I would highly recommend.
At Marple Physiotherapy we pride ourselves on our excellent reputation. We therefore highly value the patient feedback we receive as we continually strive to improve our services.