Choosing the right personal trainer
The right advice from a qualified healthcare professional or personal trainer is essential when embarking on a successful and long-lasting exercise regime and lifestyle change.
However, choosing a personal trainer can be an overwhelming task. Over the years, we have treated many injuries caused by poor training techniques, taught or supervised by poor quality personal trainers.
Are you new to exercise?
Achieving the right balance of cardiovascular exercise, flexibility, and strength training can help to prevent aches and pains, as well as many health conditions such as diabetes, high blood pressure, obesity, osteoporosis, and mental health problems.
However, people can often start working out enthusiastically without the knowledge required to exercise safely. This can lead to fatigue or injury and often means they can give up and return to their sedentary lifestyles.
Additionally, although people often have the desire to improve their fitness, they often lack the motivation or confidence to get started.
No matter what your current level of fitness is, we can help you to gain confidence in exercise, to become fitter, and to reach your goals.
If you have aches and pains, current injuries, or are just unsure of what level of activity or type of exercise is suitable for you, then please contact our clinic, and one of our physiotherapy team will happily have a free telephone consultation with you.
If you are new to exercise, or if you take regular prescribed medication, we also advise that you consult with your GP before starting a new exercise regime.
Why choose VIDE Fitness?
Olly Freeman, from VIDE Fitness, is an experienced Personal Trainer and Certified Nutrition Coach (NASM-CNC).
Olly specialises in training people with musculoskeletal issues – working safely alongside their physiotherapist.
Olly Freeman, Personal Trainer & Nutrition Coach
After initially studying physics at Salford University, Olly ventured into a career in fitness and qualified as a Personal Trainer. His knowledge of biomechanics, functional anatomy, and exercise science allows him to responsibly support clients who may have joint or muscle issues, need nutritional guidance, or are wanting to lose-weight and gain strength, mobility and fitness.
Olly is empathetic and offers pragmatic advice to clients with their personal goals, circumstances, and abilities in mind. He understands that overcoming psychological barriers can be as important as physical ones, and works hard to ensure a positive and trusting relationship with his clients.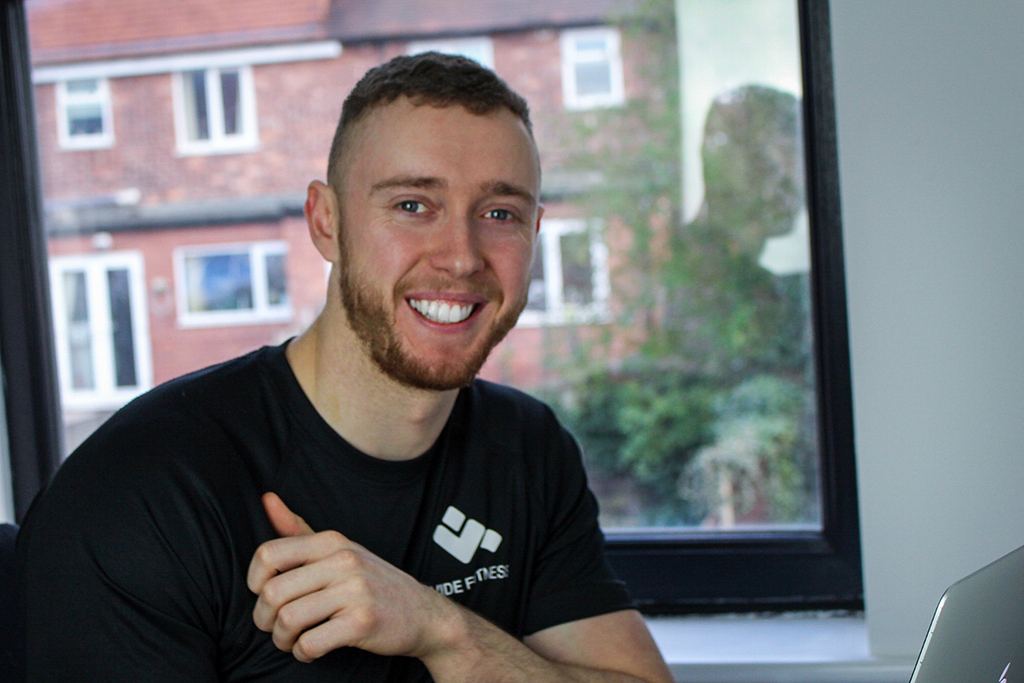 Testimonial from Liz….
"After undergoing an operation to stabilise my injured ankle six months ago, I was keen to return to my pre-injury fitness as quickly as possible. I have been training with VIDE Fitness for three months now and I am delighted with the progress I have made.
I am very impressed by the emphasis Olly places on correct technique when exercising, especially when weight lifting, as this is vital to prevent injuries. My workouts have always been perfectly tailored to my fitness level and optimised to make sure I achieve the most out of every session.
I am amazed by the progress I have made; not only am I fitter and stronger than I have been for years, I am also more motivated now than at the start of my training in the knowledge I can achieve all my fitness goals. I am eating more food without gaining weight and my mood and energy levels are better than ever. I cannot recommend Olly enough."
To book your consultation please complete our online booking form*.
If you would like to know more about how we can help you, please contact us and one of our friendly team will be happy to discuss your needs, without obligation.
* Please note: If your treatment costs are to be paid directly by your health insurance company, we kindly ask that you contact us by phone or email to arrange your appointment.
Coronavirus (Covid-19) update
Please read our COVID-19 guidance for the latest information on how we are keeping our staff and clients safe.
Please read our cancellation policy.
Here's what our clients say.
I went to Marple Physiotherapy with what I assumed was a sore neck, but it turned out to be my shoulder. After many sleepless nights in agony I went to see Liz, who after two visits got me back to normal. Everything from what she did in the practice to the exercises see gave me to do at home is geared up to promote a speedy recovery and her knowledge is incredible.Can't recommend them enough.
Andreea D.
15:19 11 Jul 23
Excellent input from Liz during my recovery after rather complex knee ligament injury. She provided step-by-step guidance with regards to specific exercises for every stage of the recovery alongside therapeutical ultrasound and massage. Highly recommended
From the get go, I have been really impressed with my treatment at Marple Physio and would recommend it to anyone with back troubles. The initial consultation was so thorough, I left feeling positive that I could improve my chronic pain. I really appreciated that Liz was able to explain the reasoning behind my long term back troubles (over compensation and shortened muscles etc.) She has given me a proactive treatment plan that I never got previously from other establishments and I have seen an improvement in my condition after only a few sessions.
A massive thank you to Liz for getting me to the start line of the Manchester Marathon! Picking up an injury half way through training I feared the worst for the big day, but a swift treatment cycle had me back up and running in a couple of weeks. I had plantar fasciitis which I have heard keep people out for months on end so such a huge thank you for the wonderful care provided to help me back to my feet.
I self-referred to Liz after an episode of chopping firewood resulted in a bad case of tennis elbow with constant pain and a complete absence of strength in my right arm. The combination of physical therapy over a course of weeks, combined with effective exercises for home, has all but cured it, in a surprisingly short time. In the process of treating my arm, Liz also diagnosed some of my long term back problems and set me on a course to strengthen the right muscles to counter those issues. Great experience and would wholly recommend.
Christopher L.
06:54 04 Nov 22
Brilliant, extremely knowledgeable and caring. They put me at ease which is very difficult when you have a very painful back. Everything from the therapy provided to the online programme they use to send you exercises is first class.
I had physio on my shoulder with Liz and she is very friendly and an expert at what she does. She was quick to diagnose the issue and give me the appropriate exercises that helped fix the problem. Would definitely recommend.
I had a sports massage with Nicky. Overall, a brilliant service which I would highly recommend.
I received fantastic service from Marple Physiotherapy and my physiotherapist Nicky. The causes of my hip injury were investigated and clearly explained, and I was given several recovery exercises to follow. All in all a very rigorous, personable, and tailored experience. Would highly recommend.
At Marple Physiotherapy we pride ourselves on our excellent reputation. We therefore highly value the patient feedback we receive as we continually strive to improve our services.