Improve posture and prevent back pain with specialist physiotherapist led Pilates.
We all come in different shapes and sizes, and might have inherited varying physical characteristics so how do we know what good posture is? As qualified Chartered Physiotherapists we spend 80% of our working lives assessing, treating and prescribing rehabilitation exercises for varying conditions and we are very rarely aiming to make our patients fit the ideal perfect posture because we all have a different idea of what this is. Instead we look to achieve a balanced posture, with joints being comfortably held in a neutral (i.e.: 'middle' position) and muscles working equally with their opposite partner.
When assessing posture, we are initially looking to see how much effort is being used to simply stand up. Some joints might be held slightly bent (typically hips might become tight with too much sitting) whilst other joints are overly locked out straight (knees have a tendency to do this). We also look to see if some muscle groups over working (such as shoulders being kept hunched up with stress) and if other muscles not doing their fair share (weak abdominals might result in an overly arched lower back). We also may assess balance to look at factors such as one side being favoured over the other and if the pelvis can be held level when balancing on one foot. Recognising these problem areas allows us to then prescribe the right exercises to start correcting them.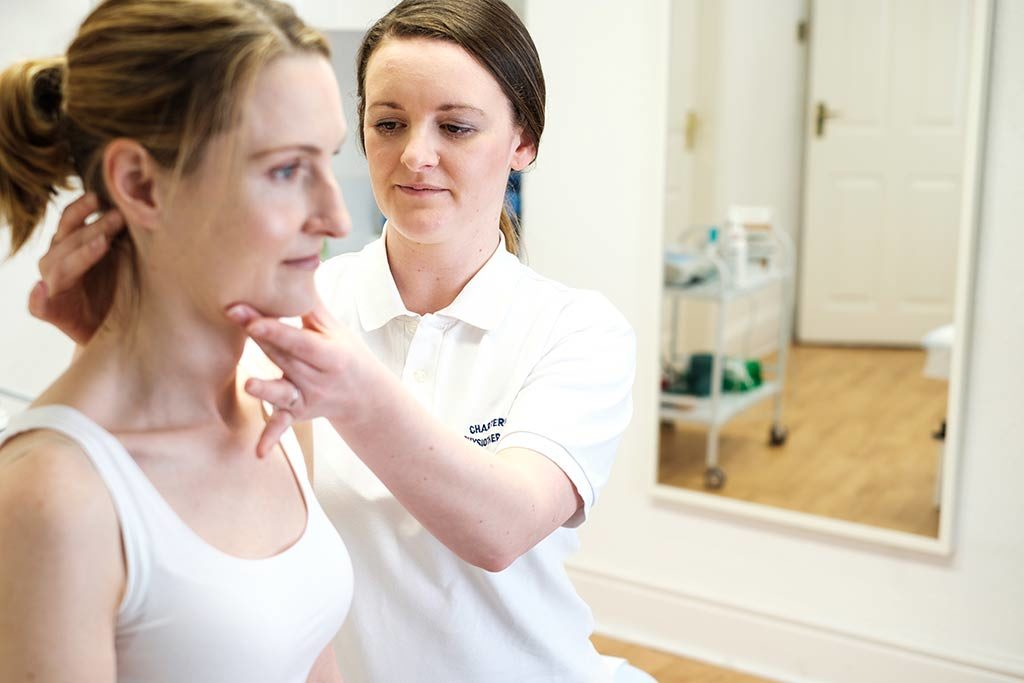 Assessing the spine is a good place to start because everything is attached ultimately to this structure.
A neutral spine means keeping the gentle forward and backward curves in place whilst we are stood upright. It is important to maintain these curves as they help to dissipate any gravitational stresses that travel up and down our spines with normal day-to-day activity. However over time we may lose these curves: an occupation that involves sitting for prolonged periods may tighten hamstrings, which can tip our pelvis backwards, flattening the lower back curve. On the other hand, abdominals weakened by weight gain or pregnancy might result in an overly exaggerated the lumbar spine's curve.
Our physiotherapist Pilates instructors gained their qualifications at the Australian Physiotherapist and Pilates Institute. Modified Pilates, as taught by our physiotherapists, starts by teaching you how to recognise how we can hold our spine in a neutral position. We then show you how to recognise the feeling when you switch on the right type of muscles that are required to hold us in place – these are our postural muscles – also commonly known as our 'core'.
Our body has deep stabilising muscles around most of our joints. The core muscles that stabilise our lower back consist of 4 sets of muscles – transverse abdominis at the front, multifidus in the back, the pelvic floor on the bottom and our breathing muscle, the diaphragm on the top. When these muscles work in unison they gently squeeze around our spine, holding it in place with our pelvis allowing safe and controlled movement in all directions. Latest research has shown that training these muscles can help to reduce back pain.
Everybody has a functioning core or they would not be able to stand or even sit upright! However it is necessary to recognise the sensation of it drawing in, in order to be able to help it get stronger. Otherwise it is likely that other muscles will work too hard in its place and then there is a risk of injury. We realise that we learn in different ways so we use a variety of teaching methods and cues to help you understand what's working in your body, ranging from demonstration, visual imagery to verbal physical description and hands-on palpation.
During Modified Pilates classes and private one-to-one sessions in the clinic you are then shown a progression of exercises working top to toe, whilst maintaining the core recruitment, making you gradually fitter and stronger.
When the spine and pelvis are held steady, the other power muscles that are attached to them have a strong stable base to work from, making walking, running and all other movements easier, more powerful and efficient. And this is how Pilates helps us to better manage sciatica, back and neck pain as well as other conditions such as arthritis and fibromyalgia.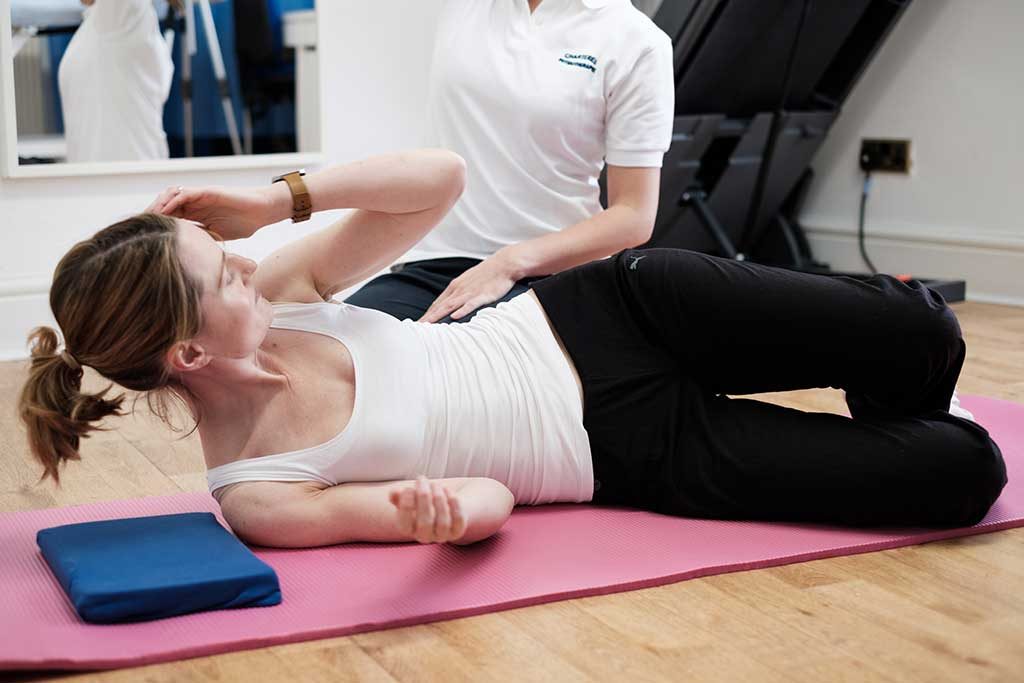 To book your consultation please complete our online booking form*.
If you would like to know more about how we can help you, please contact us and one of our friendly team will be happy to discuss your needs, without obligation.
* Please note: If your treatment costs are to be paid directly by your health insurance company, we kindly ask that you contact us by phone or email to arrange your appointment.
Coronavirus (Covid-19) update
Please read our COVID-19 guidance for the latest information on how we are keeping our staff and clients safe.
Please read our cancellation policy.
Here's what our clients say.
Christopher L.
06:54 04 Nov 22
Brilliant, extremely knowledgeable and caring. They put me at ease which is very difficult when you have a very painful back. Everything from the therapy provided to the online programme they use to send you exercises is first class.
I had physio on my shoulder with Liz and she is very friendly and an expert at what she does. She was quick to diagnose the issue and give me the appropriate exercises that helped fix the problem. Would definitely recommend.
I had a sports massage with Nicky. Overall, a brilliant service which I would highly recommend.
I received fantastic service from Marple Physiotherapy and my physiotherapist Nicky. The causes of my hip injury were investigated and clearly explained, and I was given several recovery exercises to follow. All in all a very rigorous, personable, and tailored experience. Would highly recommend.
I went to Marple Physiotherapy after I slipped on the ice with my dog and hurt my neck/shoulder. After many sleepless nights in agony I went to see Liz, who over a few visits worked wonders and had me pain free and most importantly got me my full movement back in my right arm. Everything from what she did in the practice to the exercises see gave me to do at home is geared up to promote a speedy recovery and her knowledge is incredible.Can't recommend them enough, would definitely suggest a visit if you have any aches or pains.
Anthony W.
11:44 02 Mar 21
Very pleased indeed with the treatment. Working a treat. Home excercises are extremely helpful. Definitely recommend.
Great fiendly service. Nice premises. Liz sorted my issues out. Will return!
I arranged with Nicky for some physio on my father's shoulder at short notice as my dad was in a lot of pain.He is so happy with the Sevice and effort Nicky gave him today and is very pleased with the results already. Thanks so much for looking after him. He will be returning next week..
Before lockdown I started treatment with Julie on my C-section scar. I have suffered with pain, aggressively red looking scar which was hypertrophic for a year. After a discussion and 3 sessions with Julie I saw an improvement. We did specific massage, which involved super gentle movement technique, along with an ultrasound treatment. Julie explained exactly how to treat my scar at home so I could continue with the movement technique myself.The scar is now less aggressive looking and in parts starting to turn skin colour and has more movement all along the scar. Although not 100% pain free just yet, it is a massive improvement.If you have any scar pain then I highly recommend having a chat with Julie and she can talk you through what treatment is best suited to you.
At Marple Physiotherapy we pride ourselves on our excellent reputation. We therefore highly value the patient feedback we receive as we continually strive to improve our services.