Posture and preventing back pain with specialist physiotherapist led Pilates.
What is good posture and why is it so important?
Human beings are all unique, we come all different shapes and sizes and this includes our posture. From childhood most of us have been told to sit up straight and not to slouch at one time or another and some people may have been total that aches and pains that they have suffered were due to "poor posture". So if humans are all different shapes and sizes and how do we know what good posture is?
Our spines have natural curves in them, an inwards curve in the neck (lordosis) and outwards curve in the middle of our backs (kyphosis) and another inwards curve in our lower back. There is an "Ideal" posture where these curve are balanced and our centre of gravity travels down through the spine. There are variations in posture which have been classified in to different groups:
Kyphotic posture where the outwards curve in the middle part of the back is exaggerated.
Lordotic posture where the inwards curve in the lower back is increased.
Kypholordotic where both of these curve are increased.
Sway back where the pelvis is pushed forwards
Scolosis where the spine is curved sideways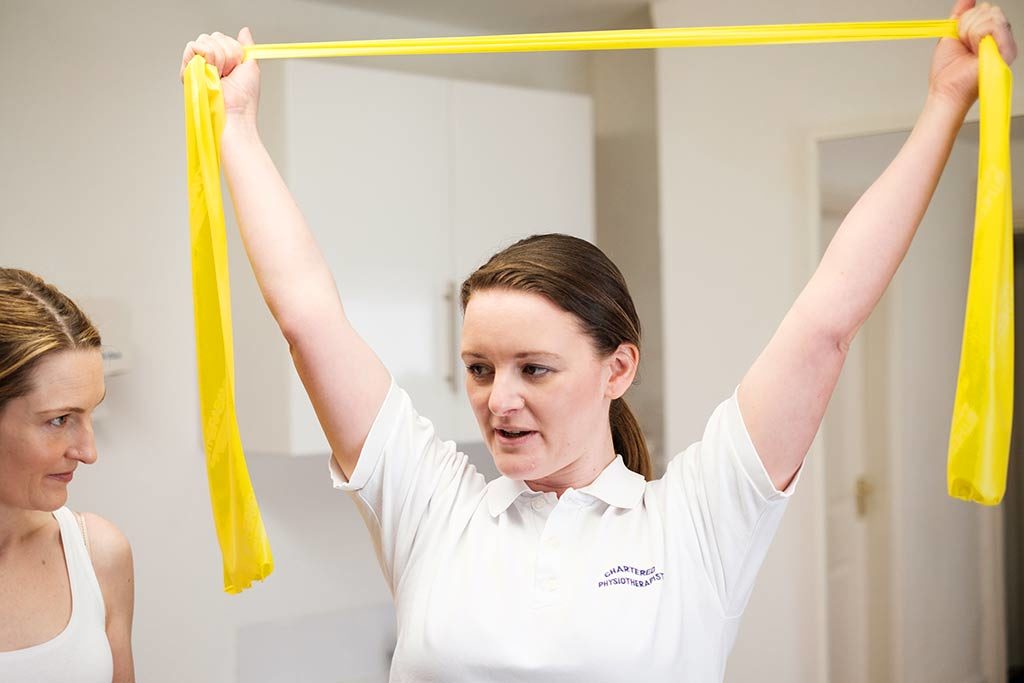 These variations can be normal and not cause any problems, but in some cases they lead to pain and disability as more stresses and strains are placed at certain points on the spine and the muscles that attach to the spine and pelvis can change in length and affect how we move our limbs.
As qualified Chartered Physiotherapists we spend a lot of time assessing, treating the posture of people who are in pain or struggling with their mobility. We do not aim to achieve the ideal posture in all our clients, we look to achieve a balanced posture, with joints being comfortably held in a neutral ('middle' position) and muscles are able to work optimally.
Deviations from an individual's neutral spine position can occur due to lifestyle: an occupation that involves sitting for prolonged periods may tighten hamstrings, which can tip our pelvis backwards, flattening the lower back curve. Or abdominal muscles may be weakened by weight gain or pregnancy and result in an overly exaggerated the curve in the lower back.
Our body has deep stabilising muscles around most of our joints. The core muscles that stabilise our lower back consist of four sets of muscles – transverse abdominis at the front, multifidus in the back, the pelvic floor on the bottom and our breathing muscle, the diaphragm on the top. When these muscles work in unison they gently squeeze around our spine, holding it in place with our pelvis allowing safe and controlled movement in all directions. Everybody has a functioning core or they would not be able to stand or sit upright, however the way these muscle work together can become dysfunction and lead to back problems.
Keeping these muscles strong is a key part of maintaining a good posture and reducing the risk of injuries to the spine and can also improve sporting performance.
How do you find out if you have good posture?
If you are currently experiencing pain in any of your joints, lower back or neck pain then it is important to have an assessment with an experienced chartered Physiotherapist. At Marple Physio, we will perform a thorough assessment of your problem, looking at both your posture and core muscle strength. Any imbalances in the functioning of or weakness of muscle groups will be identified. You will be given a bespoke set of exercises as well as any hands on treatment you need.
If you are not in any pain but want to improve your posture, prevent future problems or improve your sporting performance then Pilates is an excellent way to achieve this.
Our physiotherapist Pilates instructors gained their qualifications at the Australian Physiotherapist and Pilates Institute and teach "modified" Pilates. Traditional Pilates was designed for very physically fit dancers, modified Pilates has been broken down in to different level so is suitable for all fitness levels.
During Modified Pilates classes and private one-to-one sessions in the clinic you are taught a progression of exercises working top to toe, maintaining a neutral spine and recruiting your core muscles. Exercising in this way will make you gradually fitter and stronger and can make walking, running and all other movements easier, more powerful and efficient.
Pilates is also an excellent way to manage chronic back and neck pain and other other conditions such as hypermobility, arthritis and fibromyalgia.
If you would like to know if Pilates is suitable for you, or you would like to book an assessment with one of our highly qualified team of Physiotherapists please contact us at the clinic.
To book your consultation please complete our online booking form.
If you would like to know more about how we can help you, please contact us and one of our friendly team will be happy to discuss your needs, without obligation.
Coronavirus (Covid-19) update
Our face-to-face physiotherapy appointments and Pilates classes have returned.
We are now able to offer face-to-face physiotherapy appointments following an initial remote consultation and screening assessment. Home visits are also available.
Onsite ergonomic workstation assessments can also be conducted where social distancing can be maintained.
For those who are unable to attend the clinic or classes in person, remote consultations and online Pilates classes will be continuing. Please read our remote consultation instructions for further guidance.
Here's what our clients say.
At Marple Physio we pride ourselves on our excellent reputation. We therefore highly value the patient feedback we receive as we continually strive to improve our services.
If you are an existing client, we'd love you to leave us your feedback on your experience of our services, treatment or care.
Fantastic service from day one. Fixed my leg injury. Really pleased with the care given. Thank you.
I have seen a few physios and a chiropractor over the past ten years and Liz is the only person who identified that I had a falling arch and not only recommended the right orthotics with a raise but also suggested some compromises so I could still wear a raise with holiday footwear. She also showed me some exercises specific to my problems (not just some print out of generic back exercises). Through her treatment, the exercises and orthotics I feel I have a long term solution for the first time in 25 years (since an accident) that has actually also fixed knee and foot pain and neck pain and headaches that I never realised were related. I would highly recommend her as someone who genuinely tries to help fix the problem not just temporarily relieve pain.
Couldn't ask for a better team to help get me back on my feet! Liz is very patient and motivating! The reception team are extremely helpful and go above and beyond to help with any issues you may have. I am so glad I found Marple Physio to help me through a very difficult time in my life. Thank you all!
Top marks for everything. Prior to my knee replacement surgery, Liz has been working hard to get me in the best possible condition. Her expertise and her pleasant manner have made the sessions very rewarding. I would thoroughly recommend this practice in every way.
I was incredibly impressed with my treatment at Marple Physio. They took the time to listen to what the cause of the issue was and then looked at different treatments to resolve the issue. The treatment must have worked as I was able to complete the half marathon that I'd been training for (relatively) pain free, having only been able to run a few kilometres at most prior to my treatment. I have since recommended Marple Physio to a number of people.
In over 65 years I had never visited or needed to visit a Physio. That was until firstly I had a knee problem and the for the first time in my life a back problem. Both down to excessive golf. Well Elizabeth who treated me was wonderful. She identified the problems immediately and with the minimum number of visits cleared my problems. Lovely manner and would not hesitate to recommend.
Big thanks to Marple Physio for sorting out my sciatica. After months of suffering you diagnosed the cause, (tight muscle) and arranged treatment. Wouldn't hesitate in recommending you!
Thoroughly satisfied with treatment. My daughter Grace had a sports problem with her foot which was extremely distressing for her. She was unable to get an urgent appointment with the lower limb specialist but was seen by the team at Marple Physio – who were fantastic. Helpful, reassuring and made some great suggestions and gave exercises which have been really beneficial. Her problem has been hard to diagnose but the help and treatment has been great and thank you for strapping Grace's foot for a big running event. It worked and she was delighted with the strapping. I would highly recommend Marple Physio and the specific tailored treatment offered. Reception staff also very nice.
I don't usually comment on these things but I thought I had to. The Marple team were simply wonderful. I have had lower back pain for 15 years or so and had given up hope of being pain free. Marple Physio listened very carefully to my problems. I then was put through my paces including working my feet and toes. I felt light after the first session and by week three I was nearly pain free. Magic, simply magic.
I found the service and treatment excellent. I would definitely recommend Marple Physio to others and would use them again should the need ever arise. Many Thanks.
I had a persistent calf injury and had already seen several other physios without success. I was recommended Marple Physio by a friend from Stockport Harriers. They were very accommodating when I called to book an appointment and Liz managed to diagnose and sort the calf injury in 3 sessions. I left pain free and with strict instructions to continue my stretching homework to avoid further calf issues. I wouldn't hesitate to recommend them.
Marple Physio are really excellent. They helped me through a complicated hip injury – adjusting treatments and exercises regularly after listening carefully to my feedback. I've just completed the London Marathon and it's all thanks to Liz and the team. I wouldn't hesitate to recommend them to others.
Wonderful to find a physio who spoke to me like a person and not an idiot, clearly explained my injury and went through treatment options along with her recommendations. Would definitely recommend to anyone – especially those who like to try to understand the physiology of their problem.
Fabulous, a true assessment of what I needed and how I could achieve it, with a personally tailored plan that fitted my lifestyle and abilities.
I was referred to you from my specialist at the Alexandra Hospital. I was really pleased with my treatment and the help I was given. I have finally had treatment that works for me. Will definitely come back for help if required. Many thanks.
Unfortunately for me, I have had quite a few back problems over the past few years. Fortunately, Marple Physio is nearby and Liz and the team have done a fabulous job of unpeeling all the layers and getting to the root of the problem each time. Being treated with a combination of manipulation, acupuncture and Pilates exercises means I now have a much stronger core and I know how to keep it that way! A big thank you to you all.
I am very pleased with the fantastic treatment I received from Liz for headaches. She was very professional and friendly and I would happily recommend her to others.
Every time I came for an appointment I went away very satisfied. All the staff are very friendly and professional. I would recommend Marple Physio and they will be my first choice if I need more treatment.
After six weeks of neck and shoulder pain, it was a total relief to receive professional and expert advice with successful treatment over four sessions.
I use Marple Physio for my physio, podiatry and Pilates needs, the service has always been both professional and caring. I am greeted with a friendly welcome and I feel the treatment is continually tailored to my needs.
Elizabeth's expert diagnosis and treatment which included massage, acupuncture and targeted Pilates exercises resolved a backache and sciatica problem I have had for several years. Many thanks to Liz and the team.
Myself and my 16 year old daughter have had to use Marple Physio several times for various injuries. The service is excellent. I have no hesitation in recommending them. The quality of care is outstanding. They are friendly team and professional and have always been able to sort out our various aches and pains. If ever I have any musculoskeletal problems, I would always go straight to Marple Physio rather than see a GP. They have a far wider and much more suitable range of care options and offer a far more thorough service than I would ever get in a 10min appointment at the GP.
I really cannot recommend this practice highly enough. After two years of chronic pain, I am finally on the road to recovery, thanks to the help of the physiotherapists at Marple Physio. I also had my first video consultation appointment with Nicky yesterday, something the practice has introduced now face to face appointments are not currently possible. I was unsure how a video consultation would work, but I found it to be extremely useful. I have been experiencing a flare up of symptoms over the last few weeks, and Nicky did a fantastic job of suggesting exercises and movements I could use to help with them. She demonstrated moves, observed how I was moving, and I feel confident I now have some new things to try, to help relieve symptoms. I would definitely recommend a video consultation, to anyone wondering if it might be helpful.